Month-to-Month Offices starting at $540/month.
At the Hub in Kaka'ako we have 29 offices downstairs and 11 offices upstairs in Suite 200. Every office includes 1 Unlimited Membership.
Office spaces vary in size and pricing. All offices grant you 24/7 access to meeting rooms and event spaces, Membership amenities (read: free coffee!), weekday reception, kitchen space, and optional mail service. There is on-site, staffed parking, too. All office members are welcome to join other members for coworking anytime… or not.
Why have an office at the Hub?  Because you only pay for what you need and have access to a lot more shared resources
Here is a Sample Cost Calculator for a typical 100sf office space.
[table id=3 /]
We also have Dedicated desks for $385/month
Dedicated desks are available both downstairs and upstairs. It allows you to have a reserved space for your computer, equipment, files, pet pictures, and gives you access to all the Membership amenities, along with 24/7 access. Desks, like other Membership options are also month-to-month.
Map of Suite 100 (14,000 sf). Our downstairs office and desk offerings.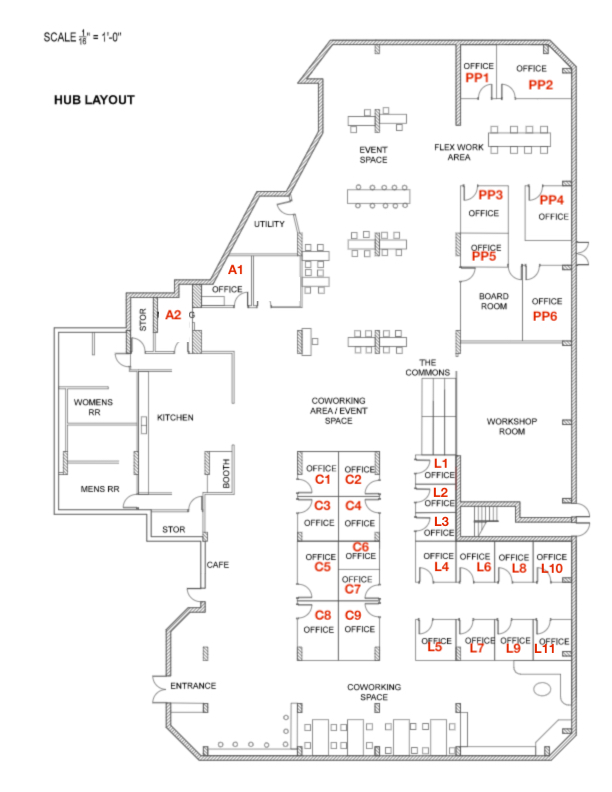 Map of Suite 200 (4,000 sf). Our upstairs office and desk offerings.